Where man's best friend learns his manners! Certified Master Canine Trainer Don Abney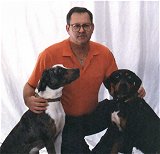 It is with profound sadness we announce that our founder, Don Abney, has succumbed to his battle with cancer on December 18, 2019.
Relatives and friends are invited to attend the funeral services at E.J. Fielding Funeral Home, 2260 W 21st Ave, Covington, LA 70433 on Monday, December 23, 2019 at 11:00 AM with visitation on Monday beginning at 9:00 AM. In lieu of flowers, memorial contributions in memory of Don may be made to Tunnels to Towers Foundation.
Don's wish was to see his Catahoula line continue, as well as his training operation. He has spent years training competent handlers in his techniques and they have amassed a world of knowledge. Don's wife Kathleen has been working with Don in his business and vows to continue on with the wonderful staff they have assembled.
Our community mourns the loss of a talented, compassionate, wonderful person but can take solace in the fact that he is reunited with his favorite pals, Bear and Ladyhawk, now playing their favorite game of hide and seek and enjoying each other's company again.
---
Professional dog training and boarding services at affordable prices.
Fully licensed and insured facility
ABCANTRA obedience training programs begin with a an evaluation of the behavior problems you are experiencing with your dog. After the evaluation, you are provided with simple and practical procedures to correct those problems.
---
Resources
A look into the Dog's Psyche, how it thinks, why it responds the way it does, and how it can affect training and behavior. Training starts with understanding the canine.
Canine First Aid Emergency care that your dog may require at home or in the field. Tips, and Information on what should be included in your dog's first-aid kit
Training Hints and Tips gleaned from over 35 years of professional dog training experience. Tactics from our training programs that may be applied to any breed of dog.
---
Professional Services
By the day, week, or month, regardless of breed or size. ABCANTRA Kennels are insured, licensed, and inspected.
We recommend having a microchip implanted in your pet for its safety and your peace of mind.
ABCANTRA's Flexible Solutions
At Abney Canine Training we incorporate every means available to assist your dog in completing the requirements of the course being taken. Although there are specific course guidelines to be followed, we sometime find a dog that does not fit into our programming. When this occurs, we make the necessary changes in our program by modifying the instructions and/or method. Changes are made in order to assist the dog and his handler with performing the required task with the least amount of stress, and to encourage them in continuing their training progress.
Abney Canine Training is located in Abita Springs, Louisiana, serving St. Tammany Parish residents and the surrounding areas. We offer Private and Boarded Training. We try to arrange your appointments around your work schedule, and, we are willing to make arrangements for those who have irratic work schedules. Dogs may be dropped off or shipped to us for training, however, arrangements must be made prior to this type of training to ensure that boarding space is available. Dogs that are sent to us for training must be current on all vaccinations, and must receive a Bordatella vaccine 48 hours prior to entering the kennel.
All dogs that have completed any of the courses offered at Abney Canine Training are afforded free consultations for any problem, including behavior modification, for as long as you own the dog. Contact us. Someone is waiting to help you.